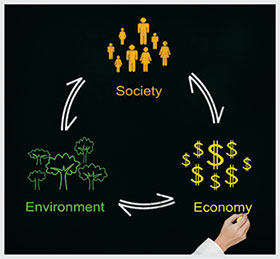 C Change Sustainable Solutions works hand-in-hand with clients to develop goals, plans and timelines to bring sustainability visions to reality. We ensure our clients' green business strategies are both aspirational in the long-term and realistic and consistent with cash flow in the short-term.
Our business services include:
Strategic planning
Vision + goal Setting
Integration with corporate strategy
Industry benchmarking
Expert facilitation
Sustainability must be integrated with the overall corporate strategy. Our process results in strategies that align with company goals, identify cost savings and new business opportunities, deliver competitive advantage and benefit the bottom-line. C Change Sustainable Solutions works with senior management, sustainability "champions" and cross-functional green teams to:
Benchmark our clients against industry leading best practices
Set sustainability goals aligned with corporate strategy
Create strategies to achieve sustainability visions
Tie the strategic plan back to your cash flow
We have extensive experience helping companies design and implement sustainability strategies, including: carbon reduction; energy efficiency and energy management; biological waste management; reduce, reuse, recycle; employee engagement; training and management briefings.